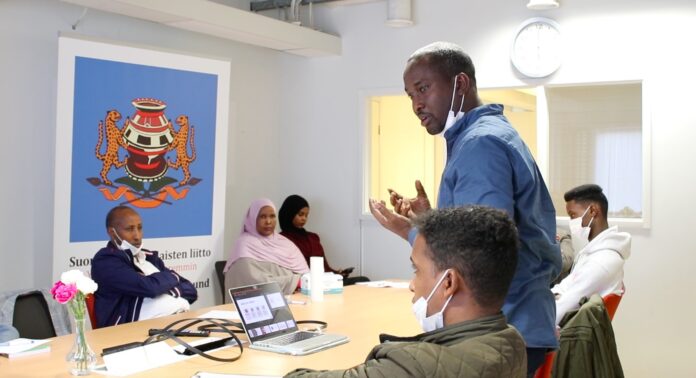 A media training on Podcasts training  and basics of communication attended by At least 15 participants was held at Finnish Somali League (SSL) headquarters in Helsinki on 27 September 2020.
Organized by Finnish Somali Union, the participants learned the basics of communication and how to make Podcasts. The training, which was interactive included  presentations and practical sessions, including exercises.  In addition, The participants also received practical exercises and an introduction to using the Podcasts and how to reach target audiences.
Abdulrahman Abdi Rage, the acting president of the Finnish Somali League said that the purpose of the training is to train Somali youth and journalists on basic communication skills in order to have the ability to present diverse views.
The trainees who spoke with Suomen Somali Media at the end of the training sessions said they have benefited the training and are now able to put what they have learned into practice.
Abdulqadir Moalin Elmi, one of the trainees said "He studied the basic communication skills and how to make a podcast and the materials required to do. The training encouraged me to do podcasts.
Another trainee Sugulle Said Salah  said he benefited from the training about what basic of communication and podcasts are about and how to put them into practice.
At the end of the training, the participants requested a follow-up training, which the trainers promised to do another training sessions.
Watch here the training: